Email Member happenings and announcements to Lauren at lauren@nwctchamberofcommerce.org
---
Sunset Yoga at Brandywine – September 25th 2019
Relax, stretch and bask in the sunset. Wednesday, September 25th at 6:00 pm. Hosted at Brandywine Living at Litchfield, 19 Constitution Way, Litchfield CT.
Network with other professionals and members of the community while enjoying a complimentary Yoga class featuring an instructor from Charym Studio.
Cool off with a delicious fruit smoothie bar provided by Act Natural Health & Wellness, and be entered for a chance to win yoga classes at Charym. RSVP by September 20th to Amber or Nanette at 860-567-9500 or achapman@brandycare.com. Free aromatherapy spray and 15 minute nutrition consultation for the first 20 RSVP's.
---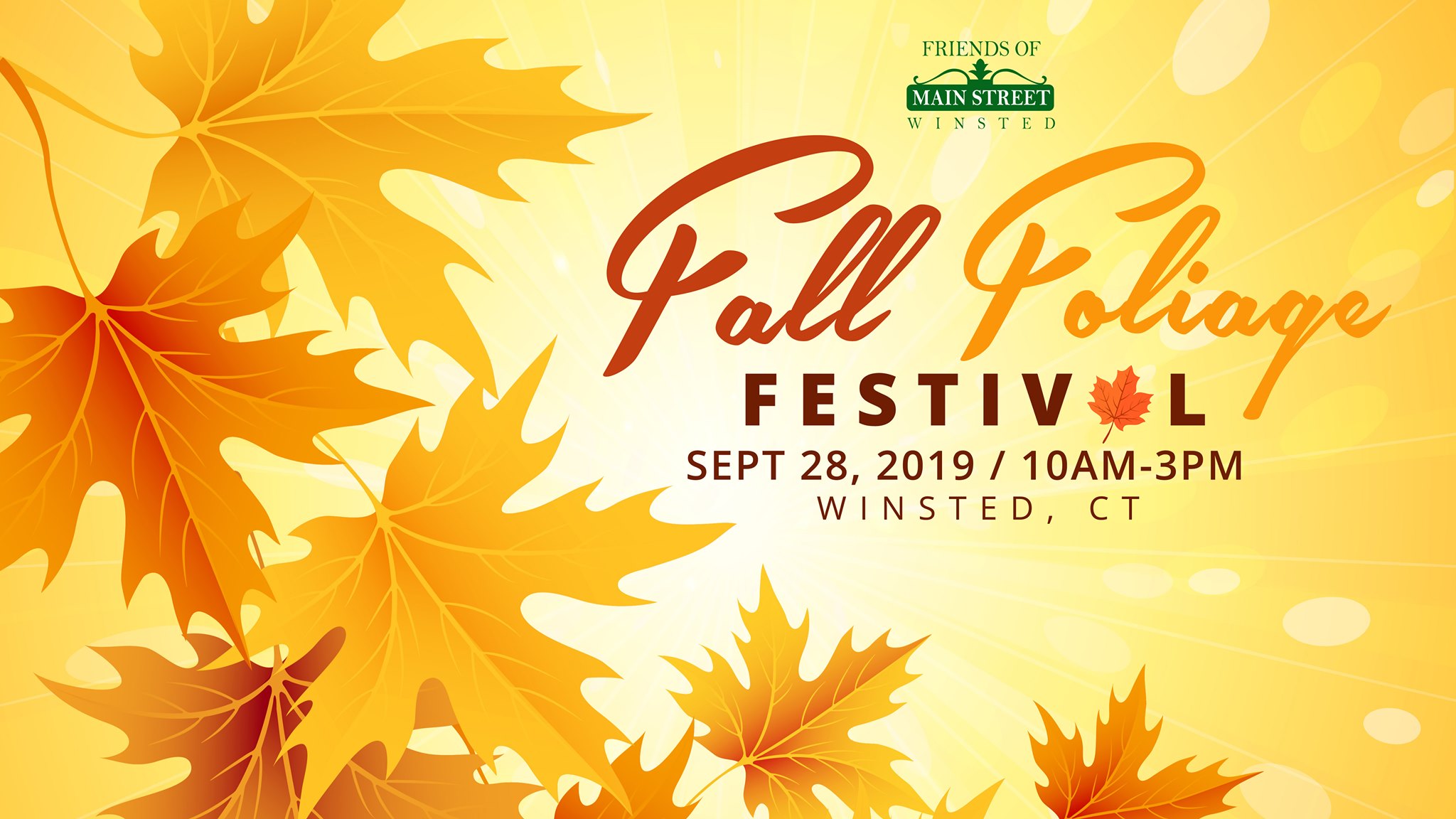 Winsted Fall Foliage Festival
The 22nd annual Friends of Main Street Fall Foliage Festival comes to Main Street on Saturday, September 28th.
Enjoy the sights sounds and smells of the annual celebration from 10 a.m. to 3 p.m., rain or shine.
For the past two decades, visitors from afar have flocked to downtown Winsted to enjoy the autumn splendor, discover crafters, artisans, vendors, plus tasty treats to tickle their taste buds from local restaurants and food trucks. It's just good old-fashioned family fun for all ages.
Remember to sign up for your free Fall Foliage Festival Door Prize Ticket!
---
Looking to Hire High School Graduates with Technical Skills?
Oliver Wolcott Technical School has a large pool of 12th grade students preparing to enter the workforce. The position does not have to be specific to the career/trade they are learning at Oliver Wolcott. These are students that have technical and mechanical abilities but do not want to pursue a career in the field they selected at Oliver Wolcott or are not going on to further their education. These job opportunities can be anything from manufacturing to business entry level positions. If you have any questions, please contact Larry Pomerleau, Precision Machining Department Head at 860-496-5331 or via email atLawrence.Pomerleau@ct.gov.
---
Marketing Opportunity from Staples for Chamber Members
Staples in Torrington wants to give back to local Chamber members! We have a unique opportunity to allow Northwest CT Chamber members the opportunity to market for free to our customers. We are inviting Chamber members into our store to set up a table and talk to our customers about the services they provide. We will provide table inside the front of our store for your use. Set up as you like and market to our customers. On average we get anywhere between 200-300 customers walking through our doors daily. It's our way of saying thank you for being a part of our community!
Please feel free to reach out to General Manager Kelly Valera at Kelly.Valera@staples.com or through phone at 860-489-3686 if you would like to set up a date and time to take advantage of this free offer.
---
Barron Financial Group Expands Its Retirement Planning Services
John Seagrave of the independent wealth management firm, Barron Financial Group, recently received a CHARTERED RETIREMENT PLANNING COUNSELORSM designation from the College of Financial Planning. With the CRPC® designation, John and the team at Barron Financial Group are further committing to providing detailed and meaningful financial advice to those at or approaching retirement. From how to invest during your final working years, to Social Security, Medicare, and estate planning; the retirement planning process can be a tough road to go alone.  As a fee-only firm, Barron Financial puts the focus on their client's needs and goals, and provides comprehensive investment advisory and financial planning services in easy-to-understand terms. To learn more about Barron Financial Group's services, please contact John Seagrave, CRPC® at (860) 489-0432 or via email at jseagrave@barronfinancialgroup.com.
For more information on this designation, please visit finra.org/investors/professional-designations/crpc.
---
Kris Roberts Named Tax Professional of the Year
Kris Roberts, President of The Roberts Tax Group located in downtown Torrington, was honored at the annual convention for the National Association of Tax Professionals (NATP) in Anaheim, CA.  Roberts received the prestigious Tax Professional of The Year Award from NATP.  The award is given each year to a member of NATP who demonstrates not only technical skills, but a commitment to the profession by taking steps to educate other tax professionals, drive positive change through their relationships with taxing bodies and through the volunteer efforts within their community.
Roberts was nominated, and subsequently selected by a panel of judges. NATP is the leading tax professional organization in the country. With over 24,000 members nation-wide, NATP focuses on education, ethics and excellence within the tax professional community.
Besides her work at The Roberts Tax Group, Roberts is also a Professor of Accounting/Taxation at Post University.  As Assistant Program Chair of the Accounting Department in the Malcolm Baldrige School of Business, she develops curriculum and teaches a variety of accounting and taxation courses.  She  also serves as President of the CT Chapter of NATP, President of Main Street Torrington, serves on the board of directors for the Entrepreneurial Center of Northwest Connecticut, and volunteers her time to develop and teach tax and accounting related seminars to local organizations such as SCORE, as well as other tax professional groups in the tri-state area.
Roberts, a doctoral student at the University of Phoenix,  is currently completing her dissertation which focuses on tax compliance for small businesses located in Connecticut.  She lives in Litchfield with her husband Jay Roberts.
---
Staples Store in Torrington Joins the Chamber
The Staples store in Torrington has just joined the Chamber and are happy to share a 20% off coupon with their fellow members for cell phone repairs. Click here to download the coupon.