---
The "New Look" of the Office Christmas Party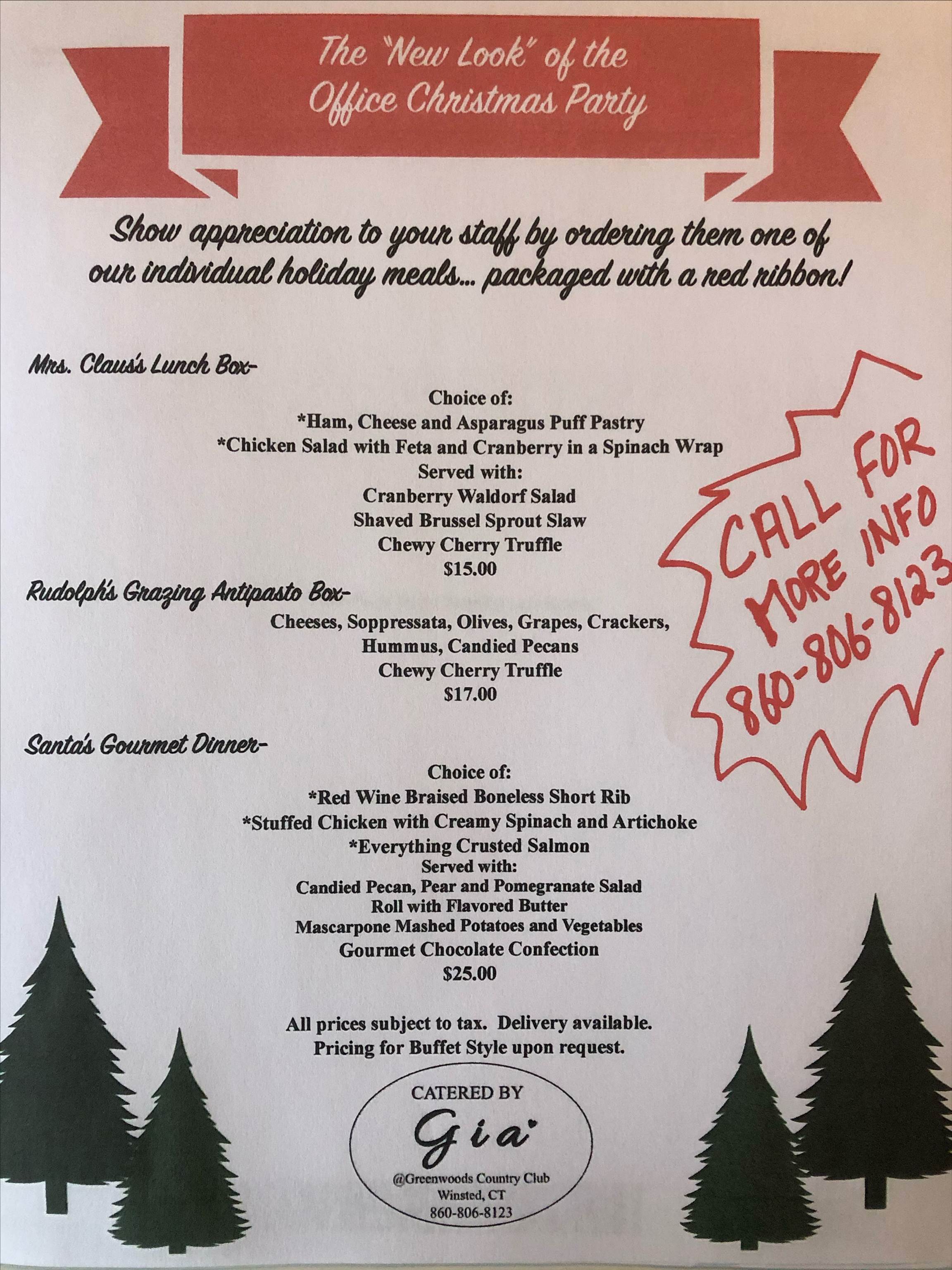 ---
Staples – Commercial Grade Quality You Can Trust
Staples Connect – Promo Butcher Block Desk (PDF)
---
It's Snowing on Main Street in Winsted!
Michael Genovese, a sign painter in West Hartford, CT, calls these painted snowflakes a Symphony of Snowflakes – 65+ snowflakes painted down Winsted's Main Street – one mile long (from McGrane's On The Green to Little Red Barn Brewers)
Northwest Community Bank, headquartered in Winsted, CT, is partnering with Friends of Main Street-Winsted to announce It Is Snowing On Main Street! Starting at the corner of East End Park and Route 44, you cannot miss the large beautiful white snowflakes appearing all along Main Street – each one different and unique. This is Friends of Main Street's largest effort to date to carry the holiday season from our historic green down our Main Street.
Northwest Community Bank has been a sponsor of Friends of Main Street-Winsted  (FOMS) since its inception over two decades ago. For many years, the Bank has sponsored our Summer Concert Series, which unfortunately had to be canceled this year due to the COVID-19 pandemic. When asked if they would support repurposing their concert funding to decorate Main Street for the holidays – their answer was, "Of course, yes!"
"We could not have asked a greater supporter of our town during such challenging times for businesses," said Fran Delaney, President of Friends of Main Street-Winsted.
Last year a member of Friends of Main Street saw a four-story building in Meriden with all of its large windows painted with snowflakes and reached out to their Economic Development Commission for the artist who painted the building. The artist, Michael Genovese, a sign painter in West Hartford, CT, calls these painted snowflakes a Symphony of Snowflakes, #symphonyofsnowflakes. "We are so grateful that he is sharing his artistry on our storefronts for the holidays," said Town of Winchester Selectman Candace Bouchard.
To add to the festivities along Main Street this holiday season, the Winchester Economic Development Commission recently announced the ribbon-cutting for a new shop, Plant Life Apothecary, at 60 Main Street on December 9 at 3:00 pm.  Also, two new restaurants are slated to open on Main Street: Lee's All American Family Diner is now open at 108 Main Street, and the Railway Cafe, formerly located in the center of Canaan, will open at its new location at 580 Main Street (formerly the Cafe de Olla) early in the new year.
About Northwest Community Bank 
Northwest Community Bank is a mutually owned state-chartered bank, headquartered in Winsted, Connecticut since 1860. Northwest Community Bank is a member of Connecticut Mutual Holding Company, along with two other community banks: Litchfield Bancorp and Collinsville Bank.
About Friends of Main Street Winsted 
Friends of Main Street Winsted is a 501(c)(3) not-for-profit organization, established in 1999, dedicated to supporting the historic preservation, beautification, and economic growth of Winsted.  We achieve this by helping to attract new businesses, support existing businesses, and encourage traffic to downtown.
Contacts: 
Candace Bouchard, Board Member, Friends of Main Street-Winsted (203) 364-6305, fomswinsted@gmail.com, www.fomswinsted.com
Solidea Pitruzzello, VP Retail Banking, Northwest Community Bank (860) 759-9459, Pitruzzello@nwcommunitybank.com
---
Northwest Connecticut Walk to End Alzheimers
In continued support of the Northwest Connecticut Walk to End Alzheimers, Lime Rock Park and Alzheimer's Association have partnered together to host a road rally! The Drive will take place on November 14th and leave Lime Rock Park promptly at 9am. It will drive through the towns of Falls Village, North Canaan, Salisbury, Lakeville, and Sharon. Key locations for drive-bys will include Noble Horizons, Sharon Health Care Center, and Sharon Hospital. November is particularly symbolic as it is National Caregiver Month.
People will be using their own cars which they will decorate with messages of gratitude and encouragement for caregivers and those dealing with Alzheimer's or other forms of dementia. Everyone will be abiding by all traffic regulations and will not require intersections to be blocked. Cars in the procession will be observing speed limits, stopping at stop signs/lights, yielding to merging vehicles, and staying a safe distance from the car ahead.
There is a donation of $50 to participate in this drive. Go to http://act.alz.org/goto/DrivetoENDALZ to make this donation!
Also, please join us on November 18th from 10:30am-12noon for "Culturally Responsive Dementia Care at the End of Life".
Perceptions of "a good death" and end of life care can differ significantly across cultural groups. Join us as we discuss strategies and guiding principles for providing culturally responsive care for diverse patients and families living with dementia.
Presented by: Sheria G. Robinson-Lane, PhD, RN, Assistant Professor of Nursing at the University of Michigan in the department of Systems, Populations, and Leadership.
Register here to get the Zoom link: https://www.communityresourcefinder.org/ResourceView/Index?id=2030907&profileDefinitionId=93&_ga=2.97197084.2019247968.1604326874-257045616.1604072784
---
Wheeler Foster Care
November is National Adoption Month! On Saturday October 24th from 11:00am – 1:00pm Wheeler Foster Care is having a Drive-By Sign Distribution Event. Help them spread the word about National Adoption Month by placing a sign in your yard. Raise awareness, engage community and support youth. To learn more about this event click here.
On Thursday October 29th at 7:00pm, they will be hosting a Virtual Information Session. Learn about becoming a licensed foster home, caring for a child with health needs, providing short-term foster care and assisting with emergency foster care. To gain access to this even click here to get the Zoom link and password.
---
Staples PPE
Staples is stocked with all the cleaning supplies you need to make sure your space and people are safe. Click here to learn more about what your local Staples in Torrington has to offer.
---
CJR FARM MARKET TO OPEN WEEKENDS IN OCTOBER
The Connecticut Junior Republic (CJR) Farm Market opened on Saturday, October 3, for the autumn season.  The Market will be open from 10:00 AM to 5:00 PM the first three weekends in October, including Columbus Day.
Fresh produce will include a variety of crops grown on the CJR Farm, including chrysanthemums, gourds,
edible and decorative autumn squashes, traditional and specialty varieties of pumpkins, and potatoes.  Hay bales, cornstalks, and fresh eggs, along with maple syrup from sap harvested from over 800 CJR trees, will round out the offerings from the CJR Farm.
A variety of baked goods prepared by the culinary arts class, including breads, cookies and brownies, as well as the CJR chefs' apple and pumpkin pies, will be sold at the market along with other items from CJR's vocational classes, such as Adirondack chairs, corn hole games and pumpkin sculptures.  Visitors will enjoy complimentary hot apple cider and the satisfaction of knowing that all Farm Market sales support the Junior Republic's vocational education programs.
Founded in 1904, the Connecticut Junior Republic (CJR) provides care, treatment, education and family support for vulnerable at-risk, special needs and troubled young people so they may become productive and fulfilled members of their homes, schools and communities.  Today, the organization's combined programs serve approximately 1,400 boys and girls annually at 11 sites throughout Connecticut.
CJR conducts three residential programs for young men on its Litchfield campus, and provides longer term care for boys at its Group Home in Winchester and REGIONS Program in Waterbury.  Education programs are provided for boys from communities throughout Connecticut at CJR's Cable Academic and Vocational
Education Center (CAVEC), which is based on its Litchfield campus and for young men in the REGIONS Residential Program.  Education services for girls are provided at CAVEC's Bristol campus.
A broad spectrum of prevention, early intervention, family support, substance abuse treatment, and intensive home-based therapy and aftercare programs are provided for boys and girls through CJR's community locations in Danbury, East Hartford, Meriden, New Britain, New London, Torrington and Waterbury.  Behavioral and mental health services are provided in most of these locations, as well as on CJR's Litchfield Campus, and by special arrangement at The Gilbert School in Winsted and Northwestern Regional School District Number 7, serving Barkhamsted, Colebrook, New Hartford and Norfolk.
A private charitable organization, the Connecticut Junior Republic is accredited by the Council on Accreditation (COA) and the New England Association of Schools and Colleges (NEASC).  CJR is supported by gifts from individuals, businesses, foundations and organizations, and through service contracts funded by the Judicial Branch Court Support Services Division (JBCSSD), the Connecticut Department of Children and Families (DCF), the Connecticut Department of Social Services (DSS), by Connecticut's public schools, and through other income earned for services provided.
For further information, please contact Hedy Barton, Director of Development and Public Relations (860) 567-9423, extension 252; or by email: hbarton@cjryouth.org. 
---
Share a Little Sugar for our Candy Drive
Wheeler Foster Care Programs is having a trunk or treat event and they are looking for your help!  Click Here  to learn more about how you can help.
---
Dale Carnegie Resources
Podcast (new interviews every other week):
https://digital.dalecarnegie.com/take-command-podcast
Blog:
https://www.dalecarnegie.com/blog/
Pre-Recorded Webinars:
Handling Stress and Supporting Resilience in Times of Crisis:
https://www.dalecarnegie.com/en/resources/webinar-handling-stress-and-supporting-resilience-in-times-of-crisis
How to Develop an Agile Workforce:
https://www.dalecarnegie.com/en/resources/webinar-how-to-develop-an-agile-workforce-in-2020
YouTube shorts on Handling Stress and Worry:
https://www.youtube.com/playlist?list=PL36jh5li88NNg-v4pZfS1oePH2FtryjI-
Virtual, instructor lead training programs:
https://www.dalecarnegie.com/en/training-types/live-online
---
First and foremost – Sharon Hospital and Nuvance Health are here for you. We remain committed to keeping you safe, healthy and informed.
Nuvancehealth.org/coronavirus is designed to keep our communities informed with the latest updates and information on steps to take if you have symptoms or concerns about possible exposure to COVID-19, changes to visitation policies, how to contact the COVID-19 Community Hotline, donating supplies to our facilities, and news about our specimen collection sites in New York and Connecticut.
Our dedicated teams are working around-the-clock to ensure a safe environment for all amid this global outbreak. We continue to work in partnership with the Centers for Disease Control and Prevention (CDC) and local and state health departments to stay abreast of the latest developments and take necessary precautions.
Please follow us on social media @SharonHospital and @NuvanceHealth for updates and health and wellness tips. Together, we can help mitigate the spread and impact of COVID-19 in our communities.
---
Seitz Has Urgent Need for 2nd and 3rd Shift Full and Part Time Help
Due to the current COVID situation, in our support of our medical customers, we are seeing a surge in demand.
While we are mainly looking for long-term employees, this might also be a great option for anyone recently furloughed or otherwise out of work due to COVID closures in the restaurant or other non-essential business arena.
Since our surge might be temporary, this could be good for someone looking for work until called back. We will 100% honor a "return to home company" policy for any local companies that have furloughed people and see this as a way to support their employees in a time of need.
The work is light assembly and manufacturing; no prior experience is required; Must be 18 years of age or older.
We are looking for people interested in committing to full-time (preferably; will consider part time) work for our off shifts (2nd is 3 pm – 11:30 pm and 3rd is 11 pm -7:30 am).
These roles might be also good for any college students that are now home.
You can respond to Evan.Berns@seitzcorp.com or reach out to my HR manager at Human_Resources@seitzcorp.com
---
Office Space Available – Prospect st exposure!
Quality downtown professional office spaces available, busy Prospect St exposure! Three separate spaces that can be combined or remain separated.
First space is 870 sqft with reception room and three private offices. Second space is 400 sqft with reception room and 1 treatment room.
Third space is up to 1360 sqft with reception room and two private offices and space to configure as needed.
All of this space is offered at 10.00/sqft NNN equivalent. Buildout is negotiable. On-site parking provided.
WOW…..$10/sqft….GREAT SPACE FOR YOUR BUSINESS.
---
Looking to Hire High School Graduates with Technical Skills?
Oliver Wolcott Technical School has a large pool of 12th grade students preparing to enter the workforce. The position does not have to be specific to the career/trade they are learning at Oliver Wolcott. These are students that have technical and mechanical abilities but do not want to pursue a career in the field they selected at Oliver Wolcott or are not going on to further their education. These job opportunities can be anything from manufacturing to business entry level positions. If you have any questions, please contact Larry Pomerleau, Precision Machining Department Head at 860-496-5331 or via email atLawrence.Pomerleau@ct.gov.
---
Marketing Opportunity from Staples for Chamber Members
Staples in Torrington wants to give back to local Chamber members! We have a unique opportunity to allow Northwest CT Chamber members the opportunity to market for free to our customers. We are inviting Chamber members into our store to set up a table and talk to our customers about the services they provide. We will provide table inside the front of our store for your use. Set up as you like and market to our customers. On average we get anywhere between 200-300 customers walking through our doors daily. It's our way of saying thank you for being a part of our community!
Please feel free to reach out to General Manager Kelly Valera at Kelly.Valera@staples.com or through phone at 860-489-3686 if you would like to set up a date and time to take advantage of this free offer.
---
Barron Financial Group Expands Its Retirement Planning Services
John Seagrave of the independent wealth management firm, Barron Financial Group, recently received a CHARTERED RETIREMENT PLANNING COUNSELORSM designation from the College of Financial Planning. With the CRPC® designation, John and the team at Barron Financial Group are further committing to providing detailed and meaningful financial advice to those at or approaching retirement. From how to invest during your final working years, to Social Security, Medicare, and estate planning; the retirement planning process can be a tough road to go alone.  As a fee-only firm, Barron Financial puts the focus on their client's needs and goals, and provides comprehensive investment advisory and financial planning services in easy-to-understand terms. To learn more about Barron Financial Group's services, please contact John Seagrave, CRPC® at (860) 489-0432 or via email at jseagrave@barronfinancialgroup.com.
For more information on this designation, please visit finra.org/investors/professional-designations/crpc.
---
Kris Roberts Named Tax Professional of the Year
Kris Roberts, President of The Roberts Tax Group located in downtown Torrington, was honored at the annual convention for the National Association of Tax Professionals (NATP) in Anaheim, CA.  Roberts received the prestigious Tax Professional of The Year Award from NATP.  The award is given each year to a member of NATP who demonstrates not only technical skills, but a commitment to the profession by taking steps to educate other tax professionals, drive positive change through their relationships with taxing bodies and through the volunteer efforts within their community.
Roberts was nominated, and subsequently selected by a panel of judges. NATP is the leading tax professional organization in the country. With over 24,000 members nation-wide, NATP focuses on education, ethics and excellence within the tax professional community.
Besides her work at The Roberts Tax Group, Roberts is also a Professor of Accounting/Taxation at Post University.  As Assistant Program Chair of the Accounting Department in the Malcolm Baldrige School of Business, she develops curriculum and teaches a variety of accounting and taxation courses.  She  also serves as President of the CT Chapter of NATP, President of Main Street Torrington, serves on the board of directors for the Entrepreneurial Center of Northwest Connecticut, and volunteers her time to develop and teach tax and accounting related seminars to local organizations such as SCORE, as well as other tax professional groups in the tri-state area.
Roberts, a doctoral student at the University of Phoenix,  is currently completing her dissertation which focuses on tax compliance for small businesses located in Connecticut.  She lives in Litchfield with her husband Jay Roberts.
---
Staples Store in Torrington Joins the Chamber
The Staples store in Torrington has just joined the Chamber and are happy to share a 20% off coupon with their fellow members for cell phone repairs. Click here to download the coupon.